Harvard Business School originally launched "HBX" as an online learning initiative designed to deliver university-level content to a broader audience of learners across the globe. In January 2019, as part of a larger rebranding campaign, HBX formally renamed itself "HBS Online" or "HBSO."
As a longtime partner of HBX/HBS Online, and in an effort to inform the rollout of the rebrand, CSA partnered with the school to field a major outcomes survey among past participants for the purpose of determining whether and to what extent they were successful in achieving specific professional or personal goals, and understanding the degree to which they credit HBS Online for having reached those goals. The objective was to learn how those who had chosen Harvard Business School's online offering felt about their experience and how it compared with other online business offerings with which they were acquainted.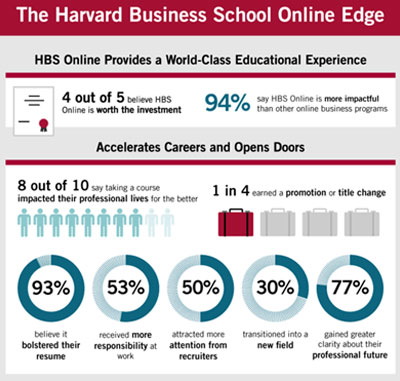 The powerfully positive results were used in press campaigns around the name change (Inside Higher Ed, January 8, 2019) and helped drive broad acceptance of HBS Online's rebrand—both among those in the Harvard community who were concerned about maintaining the considerable equity in the Harvard name, and among prospective students considering their options in a market for online business education that had expanded considerably since HBX had first launched back in 2014.